Fires first days in her new home. As you can see she has had no problem adjusting to the couch or Kaylees lap.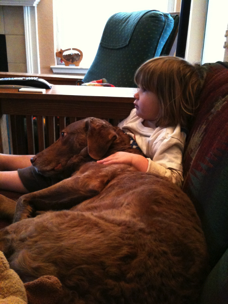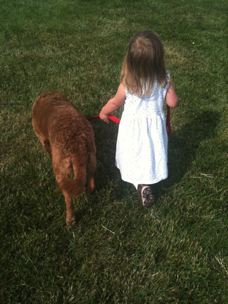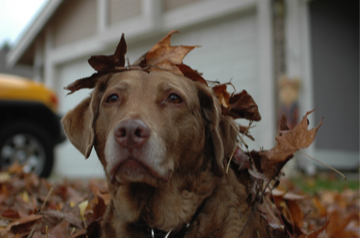 Kaylee figured that fire wouldn't want to be lonely for her nap.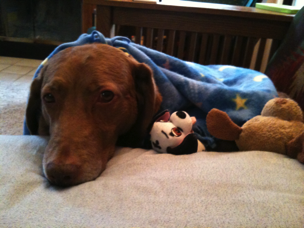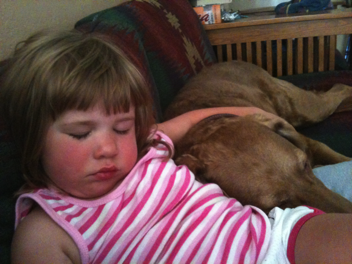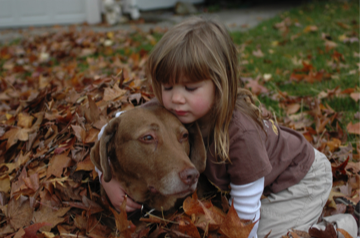 This is what happens when you are raking up a yard and your 2 year old asks "can I cover her". And you answer "sure if she'll let you.. "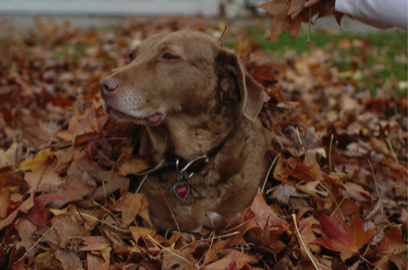 Ch. SandyOak Webfoot Hearts Afire CGC
(Ch. Redlion's Western Wishes CD RN CGC x Webbfoot Nah'Koe Tanis)
http://www.offa.org/display.html?appnum=1085440#animal
I purchased Fire from her breeder, Margine Webb, of Webbfoot Chesapeakes in Santa Rosa. Fire's mother was out of Ch. Sandy Oak's Racing Reverly CDX JH OA NAJ WD, who I co-owned with Margine. I bred the litter that Rev came from out of the Russia daughter, Sandy Oak's Bit O'Russia and sired by Ch. Eriez Marsh Hawk UD TD WD, and I owned Rev's litter brother, Rusty, aka Am* & BIS/BBE Int. Ch.* Sandy Oak's Rainbow Rider UD JH NA NAJ WD CGC ROMQ. I loved this line and had an opportunity to get this pup so I did.
Unfortunately, Fire was fraught with growth issues in her joints as a young dog which made it difficult to show her to her conformation championship, but finally we got over all the obstacles and was able to finish her quite nicely. She also got all of her health clearances including an OFA Excellent rating on hips and is PRA clear by parentage as both her parents are certified clear dogs.
The first breeding I did with Fire to Ch. Sandy Oak's Elvis JH WD failed as it turned out Elvis was sterile. The following year I bred Fire to Ch. Meadowoods Quiet Riot NA NAJ CGC, "Curry", which produced 3 puppies. I kept
Lacey
from this litter and finally decided to spay Fire and place her as she was starting to age out for breeding and we had too many dogs!
Fire is a really sweet Chesapeake, nice size – not too big or small – and very tractable disposition, but she also has somewhat of a dominant streak with other dogs so I was looking for a home with perhaps only one other dog....and eventually I found it, and so Fire went to live with a great family with a little girl. They have been great about sending me photos of Fire in her various walks of play and sleeping. One of the first photos I received was Fire asleep in her dog bed covered with a blanket and surrounded by Beanie Babies!! Another was of Fire in a pile of leaves, and another sleeping with her little human girl in a large chair.
In the meantime,
Lacey
is promising to be everything I had hoped for from her mother, and more, so this was an excellent decision, and I continue to get great reports on Fire.