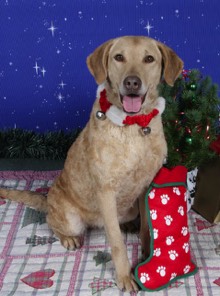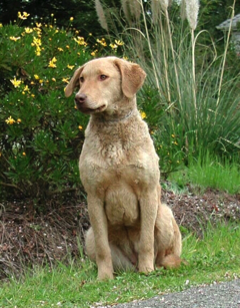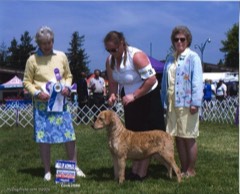 CH. SANDY OAK STARLITE STARBRITE CGC ("Sara")

(Ch. Meadowoods Quiet Riot NA NAJ CGC x Ch. Sandy Oak's Bit O'Starlite CD RN WD CGC)
http://www.offa.org/display.html?appnum=1029961#animal


Sara, aka Ch. Sandy Oak Starlite Starbrite CGC, was a lovely dead grass colored girl with a beautiful correct Chesapeake coat and wonderful temperament. She was nicely put together and had great movement! She also was a nice working dog in the field, but never got much field or formal obedience training due to commitments to other of my dogs at the time, including her mother and her great grand-father.

Sara was bred four times to Ch. Meadowoods Quiet Riot NA NAJ CGC, aka Curry, owned by Sylvia Holderman of Meadowood Chesapeakes. Many of the offspring from those breedings went into companion and/or hunting dog homes, but 4 of them have proven themselves in the competition ring beginning with Halley, aka Ch. Sandy Oak Starlite Wishes CD RE TT CGC, from the first litter who has excelled in both in the conformation ring and in obedience and is ongoing in her Open obedience and Utility training at this time.

Full sister from the second litter is Ch. Sandy Oak Wish Upon A Star RN CGC, aka Annie, who I own, love, train and am showing in various venues. Annie finished her conformation championship by 14 months of age with her first win being Winners Bitch and Best of Opposite Sex from the Puppy 6-9 class and over other specials including her mother for a 5 point major handled by me at the same show in which her dad went Best of Breed and on to take a Group 1st that day. Her second major was awarded the following month at the prestigious Del Monte Kennel Club show in Carmel also from the puppy 6-9 class handled and finished to her championship by co-owner, Catherine Collins. Annie has since been pro-trained for her basic field work, but as I have nowhere to field train my dogs I have not been able to do the drill work she needs in order to successfully run AKC hunt tests. Annie is a nice field dog with tons of drive and enthusiasm and is an exceptional marker. Last year, we started training for Rally obedience finishing her Rally Novice title in 3 out of 3 with a 3rd place at the ACC National Specialty in Gilroy last fall. More recently this year, I brought Annie back out to the conformation ring as a specials to earn the new AKC Grand Champion title. In just 5 of 6 shows, Annie has amassed 14 of the needed 25 points and also has earned all 3 required majors and the 3 required wins over other specials. Annie is fun to show regardless of the venue and I hope to go far with her.

Annie's litter mates are Sandy Oak Vela CD who also has legs on her Rally Novice title, and Sandy Oak I'll Be True To You CDX UKC CD, aka "Tule". Tule is owned by Michelle Mingus of Antioch (CA) and is Michelle's dream dog! She is loved, trained and shown by Michelle and in addition to the titles they've earned together, Tule and Michelle have gone on to multiple High In Trials in their obedience competition including back to back wins and High Scoring Chesapeake at the 2009 ACC Supported Golden Gate Kennel Club shows, and High in Trial at the 2010 ACC National Specialty in Gilroy.

Sara is now at the Rainbow Bridge with those who have gone before her but she too has left her legacy with ensuing generations at Sandy Oak.