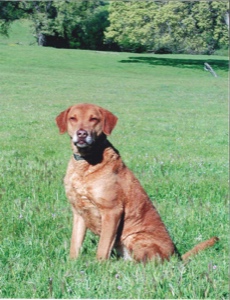 CH. SANDY OAK'S BIT 0' STARLITE CD RN WD CGC
(Ch. Happyfeet's Governor CDX MH WDQ*** x Sandy Oak Bit O'Honey Tess JH WDX)
http://www.offa.org/display.html?appnum=595240#animal

Shaina is Hebrew for 'Beautiful", so it seemed somehow a fitting call name for the rich deep sedge-colored pup whose entire being shot little bolts of starlight with her every move. This pup, from the very beginning, radiated an aura unlike any other Chessie pup that has invaded my life! Her personality was individually unique, yet reflected so many faucets of the three generations of Sandy Oak dams behind her, enhanced by the many generations of field trial dogs. My "Sandy Oak's Bit O'Starlite"... she was a mixture of grace and beauty with a fascinating ability to control an energy level that was almost unbridled. Standing just under 24 inches, Shaina was slightly on the large side of the height standard but she was not over-boned, coarse or doggy. Her head was lovely with a dark eye and perfect scissors bite. Her long neck flowed into a lovely front with beautiful shoulder layback, level topline, short back, exquisite rear angulation, and perfect tail carriage. Shaina's movement was gorgeous. Her coat was incredible-extremely dense, wiry, & oily, repelling water just like a duck's back! The color can be described as a deep rich burnt orange! Shaina had a wonderful, sweet and tractable personality. She was very smart, learned quickly, and accepted correction willingly and without a grudge. She was a multi-talented young dog that I enjoyed earning a of diverse range titles on during her lifetime. She finished her conformation championship from the Bred-by-Exhibitor class with back-to-back majors, in addition to a 5 point major with Winner's Bitch and Best of Winners at the 1998 ACC supported Golden Gate Kennel Club show handled by both Sylvia Holderman and myself, where she also made the cut for Best of Opposite out of a very large entry. During her 1999 pregnancy, she finished her obedience CD in just 3 trials with 3 class placements & all scores in the 190's+ range. The breeding behind Shaina is exceptional, supported by the best of the conformation, obedience & field Chessies. Shaina's mother was my own Sandy Oak Bit O'Honey Tess JH WDX CGC, who was out of my Ch. Sandy's Hi-Ho Shooting Star UD, JH, WDX, CGC. Star is the dam of 5 champions with multiple working titles and three more with conformation points including majors; she was also the most titled of 72 titled offspring produced by her father, the noted Ch. Hi-Ho's Guns of Canton CD WDQ***, was the first Gunner offspring to get a CDX, & the first & only to get a UD & JH. Star was also #3 in the nation in Chessies in obedience in 1993 and #2 in 1986. In 1989, we brought Star out of retirement to ace her Junior Hunter title with very little refresher training. Star was also a working gun dog and the love of my life. Her picture appears on page 192 of The New Complete Chesapeake Bay Retriever by Janet & Daniel Horn. Shaina's mother, Tess, was sold as a pup to a family in Oregon who purchased her for a pet and gun dog. Tess fell right into step with her new family with all the love & devotion that Tess gave so freely. She was pro-trained, hunted, & was titled for both AKC Junior Hunter and ACC Working Dog certificate, before they found it necessary to send her back to me for reasons they had little control over. Tess immediately became a very important part of my life and an integral part of the household. She earned points towards her conformation championship including a 5-point major from the Mt. Bachelor Kennel Club show in Oregon in 1996, after just having completed her WDX the month before. Tess was a lovely sedge bitch standing about 23 inches and weighing about 70 pounds. She was extremely well-balanced, with short back, lovely topline, neck, front and rear angulation. Her movement was gorgeous. I never ran Tess for SH as I never seemed to have the time to get out training. She was a very talented field dog though, and never missed a duck! Since I don't hunt, Tess was invaluable to me as a demo dog or a pick-up dog at local hunt tests and training days where I could be found occasionally working as a marshal or a coach.
Shaina's father is Ch. Happyfeet's Governor CDX MH WDQ**. Gov was an all-age qualified field trial dog, qualified for the 1994 Master Nationals, and is the sire of AFC & Ch. Caroway's Wild Goose Chase***. Gov is also the sire of numerous other qualified field trial dogs and multi-titled Chessies, many of whom also have their conformation championships. Gov's father is the famous and talented FC CFC Fireweed's Aleutian Widgeon who is sired by FC AFC Aleutian Surf Breaker. Widgeon is also the full brother to Dual Ch. & AFC Fireweed's Jasmine***. Governor's mother was Ch. Snap's Crackle CDX WDQ***, also an all-age qualified field trial Chessie with multiple obedience titles.
The 1996 breeding of Shaina to our own Am* & BIS/BBE Int* Ch. Sandy Oak's Rainbow Rider UD JH NA NAJ WD CGC ROMQ ("Rusty") lived up to all my expectations! These kids were gorgeous! A female from this litter earned her first points from the Puppy 6-9 class with back-to-hack Best of Breed wins at her first shows. A pick male went into a show home in Bogota, Columbia, South America and they were thrilled with him, and another went to Arizona where he only needed a major to finish when his humans started a family & stopped showing him! Another littermate earned his WD. The 1997 summer breeding of Shaina to Rusty's gorgeous and multi-talented son, BIS Ch.* Meadowoods Close Encounter CDX JH WD (aka "Target") surpassed my expectations for uniformity and quality, producing our lovely Ch. Sandy Oak Aims for the Stars CGC, dam of Ch. Sandy Oak Lucky Star Rocko CGC, and her brother Ch. Sandy Oak Elvis JH WD who finished his championship undefeated from the classes in 7 of 8 shows. Shaina has also been bred twice to Target's litter brother Ch. Meadowoods Home of the Brave UD MH AX WDQ** producing our Ch. Sandy Oak Jessica Lane CGC TT, who was specialed quite successfully, and her little brother Ch. Sandy Oak Rainbow's Reflection CD CGC ("Magic") who earned his first points, a 3 point major, at his first show at 6 months of age. Brave, is the litter brother to not only Target but also to sisters, Ch. Meadowoods Flyway Scout MH WDQ, Ch. Meadowoods Zippy Delivery CDX OA OAJ (dam of Ch. Meadowoods Quiet Riot NA NAJ CGC) & to Ch. Meadowoods Wind Wing CDX NA. Brave produced a gorgeous litter out of Shaina's mother, Tess as well, giving us our Sandy Oak Touch O'Honey Jazz RN, who herself has produced champions and champions from their offspring on the Meadowood side.
Shaina was also bred twice to Rusty's grandson, Ch. Meadowoods Quiet Riot NA NAJ CGC which produced Ch. Sandy Oak Starlite Starbrite CGC ("Sara") and Ch. Sandy Oak Sienna Starlite CGC ("Maggie"). Sara was bred four time to Ch. * Redlion' s Western Wishes CD RN CGC, also owned by Meadowood Chesapeakes, producing some outstanding offspring including our Ch. Sandy Oak Starlite Wishes CD RE TT CGC ("Halley") from the first litter, our Ch. Sandy Oak Wish Upon A Star RN CGC ("Annie") now more than half way through the requirements for her AKC Grand Champion title, Sandy Oak's Vela CD, & Sandy Oak's I'll Be True To You CDX UKC CD, who has earned multiple High In Trials while competing. Tule is owned, trained, loved and shown by Michelle Mingus.
We lost our Shaina to a stroke at the age of 13, but her memories live on in her offspring and the ongoing generations.