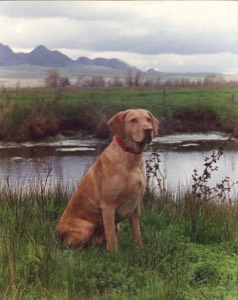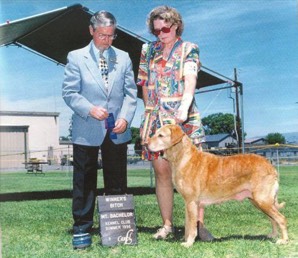 SANDY OAK BIT O'HONEY TESS JH WDX CGC
Chesapeake Bay Retriever - OFA/CERF
December 18, 1989 - November 29, 1999
Tess was acquired in July 1993 when the family I sold her to as a pup felt they couldn't keep her anymore as she had become too protective of their small children. Having heard from other Chessie people in Portland how beautiful Tess was and knowing how much professional field training she had, along with her field titles which speak for themselves, I decided I wanted Tess for myself, as a companion, and for my breeding program. Tess had been a family pet as well as Neal's gun dog, and was just as sweet as she can be. The overprotection problem she had in Portland was not an issue with me. She was nicely obedience trained, and a wonderful retriever. I attained her WDX, quite handily, I might add, but never found the time to run her for WDQ or Senior Hunter, as that is the level of her field training. With no work on my part, she easily passed her Canine Good Citizenship Test. She earned 10 points towards her championship, including a 5 point major earned from the ACC Supported Mt. Bachelor Kennel Club show, but we never finished that title. Tess got along with all the dogs and cats at Sandy Oak and easily adapted to her new environment and roll as my personal guardian and confidant...and all my friends adored her, as did I. Unfortunately, we lost Tess to cancer just two weeks short of her 10th birthday, but we had her daughters
Shaina
and
Jazz
to carry on in her pawprints!
Tess was a beautiful sedge (red) bitch with a terrific coat, balance, top-line, front and rear. Her movement was smooth and flowing with a lot of drive. She stood about 23 inches and weighed about 70 pounds. Tess's hips were OFA certified "good", and her eyes were CERF clear. She is the litter sister to a Canadian champion, another sister with WD, CGC, conformation points, & OFA excellent, and a litter brother with conformation points. Not bad, considering there were only 4 pups in her litter which was the last litter out of her mother, Star.
Tess's litters were beautiful. Our
Ch. Sandy Oak's Bit O'Starlite CD RN WD CGC ("Shaina")
is from her 1994 breeding to Ch. Happyfeets Governor CDX MH WDQ**, sire of Ch. & AFC Caroway's Wild Goose Chase***. Shaina was beautiful, sound, talented & extremely tractable. She was Winners Bitch from the Bred-by-Exhibitor Class, went on to Best of Winners and made the cut for Best of Opposite at the 1998 ACC Supported Golden Gate Kennel Club show handled by both myself & Sylvia Holderman of Meadowood Chesapeakes for a 5 point major, & finished her championship with back-to-back majors.
Shaina
produced her first litter of gorgeous pups by our own Ch.* Sandy Oak's Rainbow Rider UD JH NA NAJ WD CGC ROMQ, which produced the 1st pointed puppy with back-to-back wins of Best of Breed/Winners Bitch from the 6-9 puppy class. From Shaina 2nd litter, sired by Rusty's son, BIS Ch.* Meadowoods Close Encounter CDX JH WD, came the very talented Ch. Sandy Oak Elvis JH, & his sister, our wonderful Aimy, Ch. Sandy Oak Aims for the Stars CGC, who earned her CGC at just under 6 months of age & finished her CH. with 3 majors from the Bred By class. Shaina also produced our terrific Ch. Sandy Oak Rainbow's Reflection CD CGC, his sister CH Sandy Oak Jessica Lane CGC, our deadgrass girl Ch. Sandy Oak Starlite Starbrite CGC, who pointed under the esteemed Dorothy MacDonald at her first show from the puppy 6-9 class, & Ch.Sandy Oak Sienna Starlite CGC. A bitch, Ch. Sandy Oak Duck Duck Goose JH WDX from Tess's second litter was been hunted extensively and ran hunt tests handled by her owners, needing only 1 leg to finish her SH, She was also the dam of a new Champion from Chesagrove Kennels in Florida, sired by our Rusty. Tess also produced our favorite, Sandy Oak Touch O'Honey Jazz CGC, from her last litter sired by Rusty's son Ch. Meadowoods Home of the Brave UD MH AX WDQ*.
The breeding behind Tess was very well balanced. Her father, CH. WILLOWPOND'S WILD GOOSE CHASE WD ("Zack"), was a "Gunner" grandson sired by CH. WILLOWPOND TGIF CD WD (call name "Friday"). Friday was a multiple Group winner, having always been in the top ten Chessies nationally with several Group placements in the conformation ring, and was Best of Breed at 3 ACC supported shows, including twice at the Golden Gate Kennel Club Show. In the field "Friday" was a very enthusiastic retriever--and an exceptional marker--with placements and JAM's in the puppy and gun dog stakes at picnic trials without any formal field training. As a sire, "Friday" was Top Producer in the country in 1986 and 1987 despite siring relatively few litters prior to his untimely and sudden death due to illness in 1988. Friday is also the sire of 26 conformation champions--many of whom have WD's and multiple obedience titles with good or excellent hips per OFA, as well as a Group winning son with a licensed field trial derby placement and who also finished a Qualifying stake at a licensed field trial. Zack, Friday's son and Tess's father, was the sire of 5 champions, including multiple Group placing Ch. Willowponds Chesany Duchess, and 6 more with conformation points, plus 2 JH's and multiple WD's. Tess also has numerous half-brothers and half-sisters out of Star with championships, CD's, JH's and WD's.
Tess's mother was our own
CH. SANDY'S HI-HO SHOOTING STAR UD JH WDX
who was out of our first Chessie,
CH. BARON'S SANDY BAY CD, WD
--Dave's first gun dog--who was sired by one of the last of the Nelgard Baron sons, BARON'S MIKE II--a tremendous gun dog--and out of a field trial point bitch, RIPTIDE'S LEAPING LEAH WDQ. "
Sandy
", (
Star's
mother) is also the litter sister to field trial point dog, RIPTIDE'S BROWN BRICK WDX. Sandy was the producer of 6 champions (including Star), 2 more offspring with major conformation points, 5 Companion Dogs (CD), 2 Companion Dog Excellents (CDX), 1 Utility Dog (UD), 1 Junior Hunter (JH), 3 Working Dogs (WD), 2 Working Dog Excellents (WDX), and 1 Working Dog Qualified (WDQ), along with numerous gun-dogs, pets and other producing offspring. Star's father was the noted AM/CAN CH. HI-HO'S GUNS OF CANTON CD WDQ*** who was the first group-winning Chessie to also have licensed field trial placements. "Gunner", as he is known, was the producer of 72 titled offspring of which 50 are conformation champions--three of which also have licensed field trial placements. Our
Star
was the most titled of the Gunner offspring as well as the first to obtain a CDX, and the first and only UD and AKC "Junior Hunter" (JH).
.
❦ In Memoriam ❦

SANDY OAK BIT O'HONEY TESS JH WDX CGC
(Ch. Willowpond's Wild Goose Chase WD x Ch. Sandy's Hi-Ho Shooting Star UD JH WDX)
December 18, 1989 - November 29, 1999



Your name was befitting your body and soul
As you surely were our bit o'honey Tess!
As a puppy you went to a family in Oregon
Where you grew up, learned to hunt for Neal,
Earned your JH & WD & blossomed into a beautiful lady.
Then your Chessieness got you into trouble;
Your mistake became my blessing though,
Because they sent you back to me.
From that moment at the airport
When I opened your crate,
There was such a special bonding.
You were your mother's daughter in a sedge coat.
You fell right into step & filled a huge void in our lives.
The end came too soon--just short of your 10th birthday.
I have so much to be thankful for during our 6 short years together,
All your love and devotion, your hard work,
And your daughters & your grandchildren.
I love you my Tess and now I've lost you!
You've joined your mother and your grand-mother
At the Rainbow Bridge
Where we will meet again someday and cross over together.


Kathy Miller
Sandy Oak Chesapeakes
November 29, 1999