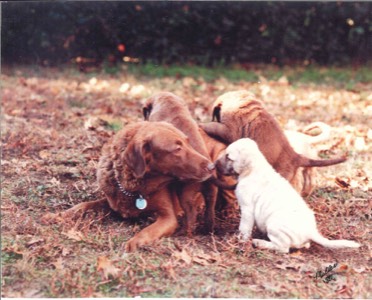 CH. BARON'S SANDY BAY CD, WD
November 1, 1973 - October 8, 1983
SB511020; CKC 981394 - OFA CB356; CERF 108/82-102
"Sandy" was our delightfully personable lady and our first Chesapeake. She loved everyone and everyone loved her. A rich reddish-brown, Sandy stood about 23 inches tall and weighed about 65 pounds; she was a beautiful Chessie as evidenced by her most outstanding track record. Her show career was quite successful, starting at the age of a year-and-a-half with 3 Best of Breeds and 1 Group placement from her only 3 all-breed matches. She then went on to take Reserve Winners Bitch from a huge entry at the 1975 American Chesapeake Club (ACC) Western Specialty and made her first point the following month at an all-breed licensed show. Temporarily retired in April of 1976 to become a mother, Sandy appeared back on the show circuit with handler Doug Bundock and finished less than two months later, taking both Best Opposite Sex and Best of Winners to majors at her last two shows. The following year she was owner-handled by Kathy as a "specials" with many Best Opposite Sex placements and a Best of Breed. Then, following another two years of retirement from the show ring and 3 litters later, Sandy returned in February 1980 to go Best Opposite Sex at the ACC supported Golden Gate Blue Ribbon show over a specials entry of 15 Chessies, owner handled by Kathy. After that she was shown at a couple of Northern California all-breed shows with nothing less than Best-of-Breeds. Her last win was a first place from the Brood Bitch class at the age of 9 at the 1983 American Chesapeake Club supported Golden Gate Blue Ribbon Benched show. Additionally, Sandy obtained her "Companion Dog" (CD) title in obedience in only 4 trials, going Highest Scoring Champion of Record in the obedience division at the 1977 American Chesapeake Club National Specialty handled by Dave.
In the field, Sandy was typical of her breed and breeding; she was especially noted for her marking accuracy and swift retrieves--a trait which she seemingly passed on to her offspring. She was exceptionally soft-mouthed, as evidenced by the ever-increasing supply of slightly used, but live, pigeons that seemed to accumulate! Sandy was never field-trialed due to lack of time and knowledge, but she was the daughter and sister of pointed field trial Chessies, namely RIPTIDE'S LEAPING LEAH WDQ and RIPTIDE'S BROWN BRICK WDX. She was sired by BARON'S MIKE II who was one of the last remaining Nelgard Baron sons and also went an OFA Excellent at the age of 10. Sandy was one of the few remaining grand-daughters of the great FC AFC CFC NELGARD'S BARON CD, as well as the great-grand daughter of the great DUAL CH. & AFC TIGER'S CUB CD and DUAL CH. & AFC MOUNT JOY'S MALLARD. And, after putting up with all our mistakes, Sandy eventually earned her "Working Dog" certificate at the age of 8, in addition to having retrieved her fair share of game in her limited use as a gun dog.
During her lifetime, Sandy produced 4 litters totaling 37 pups; of that, 27 offspring can be accounted for. The first litter sired by CH. BERTELEDA SANTANA WDX produced 1 breed champion and 2 obedience title-holders. The second litter sired by DUAL CH. & AFC CAPITAL CITY JAKE really proved to be exceptional...a son, CH. SANDY OAK'S SAM HILL CDX WDQ, obtained his conformation championship finishing at the American Chesapeake Club supported Orange Empire Dog show in Southern California with a final point tally that included two 3-point majors and two 4-point majors, plus 7 Best of Winners and 3 Best-of-Breeds, all before the age of 22 months. He also attained his CD & CDX title in just 4 shows each, with the National Chesapeake Specialty breed show weekend in May of 1980 resulting in not only 2 legs of his CDX but also his Working Dog (WD) field certificate. He eventually earned his WDX, and was the 2nd dog to run & earn a WDQ on the west coast,handled by Dave. Sam has also sired some outstanding litters out of a "Mt. Joy's E.C. Bay" daughter, a half sister, and Ch. Ice Star Tiger CDX from Alaska, and a "Kobi King" daughter--which produced a champion, a CD, 2 WD's one of whom is in Japan and another with conformation points and legs on a CD. Two of Sam's littermates also earned their breed championships. One of these, a bitch,
CH. SANDY OAK'S RUSSIA CD WD
, who attained her championship nearly undefeated, has been bred 4 times producing beautiful puppies with exceptional field ability. A puppy from her first litter was initially purchased by the late Mrs. Eloise Heller Cherry of BARONLAND KENNEL, and, at the age of 10½ months, this pup, CH. MARY, MARY QUITE CONTRARY (who eventually went to Whitewater Kennel in Canada), attained her breed championship with Best-of-Breeds over males as well as a Specialty-Best-In-Match win. Others of Russia's pups--some of whom are also titled--have been outstanding producers, or gun-dogs/family dogs with their owners referring other friends for subsequent litters. Russia is also the foundation bitch for what has evolved as our "Russia" line of Chesapeakes.
Unfortunately, Sandy's third litter, which was sired by AM/CAN. CH. CUB'S SONOMA MOUNTAIN JACK CD WD, has, for the most part, vanished, so we have only been able to sporadically follow the progress of one male. This is regretful as the entire litter showed more than an ordinary amount of overall potential. But, there is a son who used to be in Anchorage, Alaska, who is not only exceptional looking, but also has conformation points, including majors from AKC shows, and he produced a son who was nominated the ACC Gun Dog of the year one year.
AND...that brings us up to Sandy's 4th & last litter sired by AM/CAN. CH. HI-HO'S GUNS OF CANTON CD WDQ, the #1 all-time top producing sire in the nation who also has licensed field trial placements. Since this was our last opportunity to obtain anymore of Sandy's pups, we kept a little girl who grew up to be our own
CH. SANDY'S HI-HO SHOOTING STAR UD JH WDX
, whose biography appears elsewhere in this album, as she is also the foundation bitch for our "Star" line. Star is the litter sister to CH. SANDY'S HI-HO BIG ERNIE and SANDY'S HI-HO FOXFIRE who has conformation points, is the dam of a JH, WDX, and has other kids with conformation points. All three are OFA and CERF certified. Other of these kids went to Canada, Oregon and Connecticut and were thoroughly loved by their owners.
But no matter which litter, all of Sandy's kids have been blessed with excellent conformation, bone, color, heads and coat, as well as tremendous field ability and dispositions. The quality of her pups were consistant within each litter, from litter to litter, and from generation to generation. The pups were easily trainable and made wonerful pets. They were sold into show, pet and/or field homes in nine states including Alaska and Canada. Subsequent generations have gone to Japan, Mexico, & South America. Quite a few of Sandy's offspring are OFA certified--others were certifiable but the owners elected not to go through OFA for the official certification. Three of Sandy's granddaughters were OFA certified "Excellent". Numerous pairs of eyes have been examined for the absence of hereditary eye disease and most have been cleared, with the exception of some from a line we bred into that ended up producing eye problems.
All totalled, Sandy is the dam of 6 conformation champions and 2 more with major conformation points, 5 Companion Dogs (CD), 2 Companion Dog Excellents (CDX), 1 Utility Dog (UD), 1 Junior Hunter (JH), 3 Working Dogs (WD), 2 Working Dog Excellents (WDX), and 1 Working Dog Qualified (WDQ), numerous gun dogs, many loveable pets, grandchildren, great grandchildren, et al. We know the titles and merits will continue to increase so long as Sandy's generations continue, as the quality is there by which to do it. We will always miss Sandy's presence, but she has left us a great legacy in her offspring, especially through our "
Star
" and "
Russia
" who are also no longer with us but continue on through their children and grand-children at Sandy Oak.