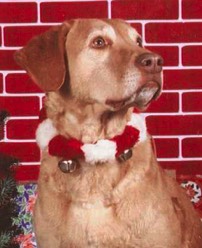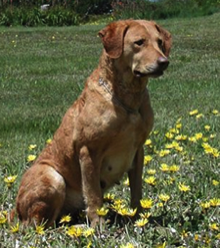 Sandy Oak Touch O'Honey Jazz RN CGC
-
OFA CB6391 CERF3666/07-105
(Ch. Meadowoods Home of the Brave UD MH AX WDQ** WDQ OFA5177 CERF 3275/01-80PRA DNAB1 X Sandy Oak Bit O'Honey Tess JH WDX (Ptd.) OFA3926 CERF2113/98-100)
http://www.offa.org/display.html?appnum=788543#animal
Jazz is a lovely sedge-colored (red) bitch who stands about 23 inches and weighs about 68 pounds. She is pointed in the conformation ring, has her Novice Rally Obedience title, and is extremely talented in the field. The only thing holding Jazz back from earning her basic field titles is lack of time on our part and no WD tests in this area for the last few years, but she placed in the Intermediate division of one of our ACC picnic trials handled by our friend and helper/trainer Catherine who had never handled a field dog before except for maybe a couple of training sessions. Jazz also has excellent temperament and trainability.
Jazz's father, Brave, was an extremely good looking, talented, and versatile Chesapeake. He is a two-star (**) field trial dog who was also the first Champion/Master Hunter Chesapeake to earn an agility title. Brave, sired by my
Am* & BIS/BBE Int.* Ch. Sandy Oak's Rainbow Rider UD JH NA NAJ WD ROMQ ("Rusty")
, is out of a litter bred by Sylvia Holderman of Meadowood Kennels in Santa Cruz, CA that produced five champions with multiple working titles in obedience, agility, and the field, including two CH/Master Hunters and as well as a Best In Show dog with multiple group firsts and hunting and obedience titles. Rusty is a top producing sire and was also a very talented dog who, at nearly 14 years of age was still very healthy and well. Rusty's show career was outstanding over a 10+year span and included 4 ACC supported wins the last of which was a Best of Opposite at the ACC supported entry all-breed show in Lacy, Washington the weekend following the ACC National in 2001 where Rusty also won all his Veteran classes and was Best Stud Dog in Show after his son (and littermate to Jazz's Dad, Brave), group winning BIS Ch.* Meadowoods Close Encounter CDX JH WD went Best of Opposite Sex with the Reserve Judge's Award of Merit going to Rusty's other son (also group winning) Ch.* Meadowoods Officer Redmond CD, handled respectively by Joan and David Holderman. Information on the Meadowood dogs can be found on the Meadowood website at
http://www.meadowood.us
. Pictures of Jazz's father, Brave, can be found at
http://www.delbravechesapeakes.com
/.
Jazz's mother,
Sandy Oak Bit O'Honey Tess JH WDX CGC
came back to Sandy Oak at the age of four fully trained as a gun dog and had hunted for 3 seasons with her previous owner. She also had her AKC Junior Hunter title and her ACC Working Dog certificate. After clearing her hips and eyes I decided to keep her myself, rather than to place her, as she was the sedge version of her mother, my
Ch. Sandy's Hi-Ho Shooting Star UD JH WDX
, who was adored by all and died suddenly in a horrific automobile accident at the age of 11 after the driver of the car, who also died, had a heart attack. So when I had the opportunity to take Tess back, I jumped on it and have never regretted that decision. Tess was a very talented girl in the field having earned her WDX so easily for me. She was trained through Senior Hunter level but I never had the time nor money to pursue those titles, so I used her as test dog or as a pick up dog at many of the local hunt tests when I marshaled or when I took the other dogs out training. Tess also had 11 points on her conformation championship, including a 5 point major earned at the Oregon supported entry in 1996. Tess has produced some very talented offspring, including three champions, one of whom was lacking only one leg to finish her SH.
Jazz is OFA certified for the absence of hip dysplasia, and currently CERF certified for the absence of inherent eye diseases. All dogs on both sides of her pedigree were current on all certifications as well. A daughter from Jazz's first litter sired by Ch*. Redlion's Western Wishes CD RN CGC is pointed but was never finished. Jazz's last 3 litters were sired by Ch. Meadowoods Quiet Riot NA NAJ CGC, aka "Curry". From Jazz's first Curry litter, a gorgeous 15 month old male, Ch. Sandy Oak Ursus Arctos, finished his CH in 9 shows in great style, owner-handled, earning his first 12 points in the form of three major wins all in the same weekend at ACC supported shows in Denver, CO in February. I co-own a son from Jazz's last litter by Curry – Barron, aka Ch. SandyOak Thunderbolt, and Sylvia Holderman of Meadowood owns Baron's litter sister, Sheba, aka Ch. Meadowood's Quiet Legacy who has gone on to produce champions and obedience titleholders. Jazz is still going strong at just 13 years young.
July 29, 2011