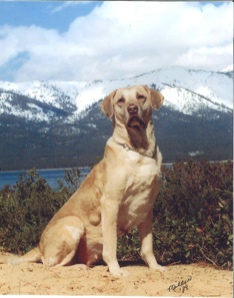 CH. SANDY'S HI-HO SHOOTING STAR UD, JH, WDX CGC
October 18, 1980 - March 9, 1992
Chesapeake Bay Retriever
OFA 1241; CERF 249/90-114
"Star" was our #1 lady with a lot of spunk! She was home-bred, raised and mostly trained by Kathy. By the age of three, Star had attained her first level field certificate (WD), breed championship, and first and second level obedience titles (CD & CDX). In the conformation ring, Star's first points were won at the age of 8 months from the puppy class and included a Best of Opposite Sex placement; the remaining points were accumulated in between leaves-of-absence from her intense early field training. Her more outstanding show wins include an owner-handled 4-point Best of Winners under Mrs. Tom Stevenson, and a "Specials" Best of Opposite Sex under breeder-judge, Mrs. Sue Cogley, from a large class the same weekend in which Star had just attained her championship.
In the field, Star was quite stylish. She was an accurate marker...moved like a gazelle...had a nose like a hound...and did just what she'd been bred for as efficiently as possible! Her first title was the American Chesapeake Club (ACC) Working Dog field certificate (WD). Additionally, entry in various picnic trials resulted in an Intermediate JAM (Judges Award of Merit) as a puppy; 4th, 2nd, and 1st awards also from the Intermediate level; and 4th, 3rd, and 2nd awards from the Derby level. Star earned her Working Dog Excellent (WDX) certificate with great style and confidence at the 1985 Nor. Cal. ACC stake. Also, in 1985, she made her debut as replacement duck dog when her brother's foot was injured, and carried out those duties with her usual aplomb and style...despite Dave's dropping her out of the boat the first day out! Then, after nearly 3 years of retirement and with only a few days of training, Star earned her AKC Junior Hunter (JH) title with 4 legs in just 6 tests.
As an obedience competitor, Star was a true delight...sharp, willing and eager! Her Companion Dog title (CD) was earned with 4 "legs" from 4 consecutive trials (only 3 required) with high scores, and a class placement in the pouring rain. Alternating with these obedience trials, Star also ran 2 ACC picnic field trials finishing in 2nd place out of 22 starters in one trial and in 1st place out of 15 starters in the other trial. Star then went on to earn her Companion Dog Excellent title (CDX) within six months of her CD. Her CDX wins included an Open A score of 191 together with a Graduate Novice class 1st place with a score of 192 resulting in a High-Scoring (in trial) award for combined Open A & Graduate Novice. The same weekend, Star earned another Graduate Novice 196 and tied for a class placement of 2nd. Her qualifying scores accumulated for 1983 totaled 1,516 points putting her in 3rd place in the nation in Chessies for obedience. 1986 brought Star's Utility Dog degree (UD) with numerous class placements and special awards, including a Utility 1st place from the ACC National Specialty. She also placed 2nd in the nation in Chessies in obedience with total points of 2,245 for the year. Star was one of the 4 team members of the County-Wide Dog Training Club obedience team that won the team class in 1988 and took 2nd in 1989. The 1989 ACC National Specialty brought a 196 1/2 and a 1st place from the Veterans' obedience class. 1991, her last year of competition, brought 1st from both the Veteran Bitch & Brood Bitch at the ACC supported Golden Gate Kennel Club benched show and a 1st from Veterans obedience at the County-Wide DTC annual obedience trial. She also became famous for her tennis-show scent discrimination exercise that Bob taught her for obedience demos.
In our opinion, Star's breeding is exceptional. Her father, the noted AM/CAN CH. HI-HO'S GUNS OF CANTON CD, WDQ***, was the first Group-winning champion Chessie to have also earned licensed field trial placements--having both American and Canadian field trial points--and qualified for the Canadian Amateur Nationals. "Gunner" is also the all-time high top producing sire of 70 titled offspring of which 51 are conformation champions--three of which also have licensed field trial placements. Star was the 36th champion, 1st CDX, 1st and only UD, 1st and only JH, and also the most-titled of all her siblings! Gunner repeatedly produced sound, typey kids with excellent dispositions and field ability.
Star's mother was our own
CH. BARON'S SANDY BAY CD, WD
, Dave's gun-dog, daughter and sister of pointed field trial dogs, grand-daughter of the great FC AFC CFC NELGARD'S BARON CD, and great grand-daughter of both DUAL CH. & AFC TIGER'S CUB CD [#2 all-time high field trial Chessie] and DUAL CH. & AFC MT. JOY'S MALLARD. Sandy is the producer of 6 champions (including Star), 2 more offspring with major conformation points, 5 Companion Dogs (CD), 2 Companion Dog Excellents (CDX), 1 Utility Dog (UD), 1 Junior Hunter (JH), 3 Working Dogs (WD), 2 Working Dog Excellents (WDX), and 1 Working Dog Qualified (WDQ), in addition to many gun-dogs, numerous family pets, grand-children, great grand-children, and great-great grand-children with or without titles.
Star's first litter by CH. TULE BOB II WD produced excellent gun-dogs, pets, and one son, Ch. Sandy Oak's Shannon CD WD ("Brandy"), with conformation championship earned with a 5-point major & a 3-point major, a CD, WD & 2 legs on his JH. Brandy went on to be a top producer of multiple titled working dogs including a conformation champion. Star's 1988 pups (2 litters) by CH. WILLOWPOND T.G.I.F CD WD are exceptional--all have beautiful dispositions, excel in field ability and trainability, with outstanding coats & show quality conformation, three of whom have finished conformation championships (including a Group winning, multiple group placing son), CD's, a JH, & WD's & others of whom also have conformation points. Star's last litter of only 4 pups by Ch. Willowpond's Wild Goose Chase produced a group winning Canadian Champion, 3 others with conformation points, a JH, 2 WD's & a WDX. Star's kids are good looking, consistant in type & size, with good dispositions & a high rate of understanding; they have been especially outgoing from the very beginning with incredible drive in the field, yet tractable. Star is the dam of 5 champions, 5 more with conformation points, 5 CD's, a JH and another with JH legs, 7 WD's, a WDX, as well as 2 OFA Excellents, 5 Goods, & 8 CERF's. Unfortunately, her last 2 litters, sired by dogs with a history of eye problems, also produced documented eye problems in the form of PRA on 3 dogs and cataracts on 2 other dogs. One of Star's PRA afflicted daughters was used in the research that produced the new PRA DNA testing for CBRs. Star's daughter Tess went on to produce generations of champions and titled dogs herself and through her daughters Shaina & Jazz, up to and including our Halley and Annie of our current girls.
Star died suddenly at 11½ as the result of a tragic auto accident, but prior to that was basically retired as the #1 house dog with primary responsibility for guarding the homestead, delivering the correct slippers, and collecting her dinner dish following each meal! Her daughters, Sassy, Kelsi, &
Tess
, and their daughters, followed in her pawprints. Star's photo can also be found on page 192 of Janet & Daniel's Howell House book The New Complete Chesapeake Bay Retriever. She was also the July pin-up girl in The American Chesapeake Club calendar of CH/UD dogs with field titles.
July 30, 2011
Ode To A Special Lady


CH. SANDY'S HI-HO SHOOTING STAR UD JH WDX CGC
October 18, 1980 - March 9, 1992


Dawn breaks--the stars fade with the rising sun.
The world sleeps as my Bay dog stirs.
She was my shooting star--the pride of my life,
and one in a million.
Fearless and undaunted, we climbed the ladder of success.
We shared our joys and our disappointments,
Growing together, bonded by such a special kinship & trust.

So many memories--each like an everlasting flower.
The first litter of puppies you lined in neat rows--
you were so proud!
Our first combined win and the WDX on the first try!
Our first Utility degree earned before anyone even noticed you!
The first hunting trip when Dave dropped you out of the boat!
And the successful hunt for the vanishing duck--
everyone thought that you'd give up!
Return from retirement aced a quick Junior Hunter title; I was
so proud of the old dog that you were!
Then there was the tennis shoe scent discrimination demos
that Bob thought up.
And four litters of wonderful kids following in your footsteps--
how lucky I am to have two of them.

You were my wonderful lady, so devoted and true.
So many little things--the famous 'roooo--
Your grin at the sight of your collar--
Your faithful morning greeting and the bedtime cookies--
Mouthfuls of wild geraniums and all the vacuum cleaner massages--
A decade of Golden Gate benched shows--you won your last classes--
And such a wonderful nurse dog and guard of my cars.

We've shared our successes and our failures; our sadness and joys.
We've raised your puppies and your grandpuppies.
We've had our ups and downs and even some arounds.
We've shared a very special person--you died with him and
your ashes are scattered over his.
You were such a special lady--the star of my universe;
You gave everything and asked for nothing but love
and a full tummy!

Kathy Miller
April 24, 1992