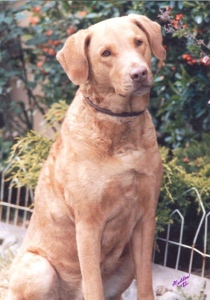 CH. SANDY OAK'S RUSSIA CD WD
(Dual Ch. Capital City Jake*** x Ch. Baron's Sandy Bay CD)
http://www.offa.org/display.html?appnum=113055#animal
Russia was born from Sandy's second litter sired by DUAL CH. & AFC CAPITAL CITY JAKE, an exceptional litter! A son, CH. SANDY OAK'S SAM HILL CDX WDQ, obtained his conformation championship finishing at the American Chesapeake Club supported Orange Empire Dog show in Southern California with a final point tally that included two 3-point majors and two 4-point majors, plus 7 Best of Winners and 3 Best-of-Breeds, all before the age of 22 months. He also attained his CD & CDX title in just 4 shows each, with the National Chesapeake Specialty breed show weekend in May of 1980 resulting in not only 2 legs of his CDX but also his Working Dog (WD) field certificate. He eventually earned his WDX, and was the 2nd dog to run & earn a WDQ on the west coast,handled by Dave (my now ex). Sam was also an exceptional gun dog hunting many seasons for Dave!! Sam sired some outstanding litters out of a "Mt. Joy's E.C. Bay" daughter, a half sister Sandy's Hi-Ho Foxfire, Ch. Ice Star Tiger CDX from Alaska, and a "Kobi King" daughter--which produced a champion, a CD, 2 WD's one of whom is in Japan and another with conformation points and legs on a CD. Another litter mate, who finished championship quite nicely was Ch. Sandy Oak's Cutter, who I sold as a pet to someone who had never had a dog before, much less a Chesapeake. She sent Cutter into a young groomer, now well known as Tracy Olsen in the conformation rings of today and also for her lovely champion Beagles! Tracy took a liking to Cutter and asked to show him. All three litter mates ended up competing at the same time, and all three finished their CH's.
Russia was sold as a pup to one of the vet techs at my veterinary clinic after Theda fell in love with her when I took Russia with brother Sam in for some treatment. I was approached by my vet and asked if I would consider selling Russia to the vet tech who worked there and had taken a fancy to the friendly little red pup. After some careful thought I decided it was foolish to keep two pups at the same time and agreed so long as Theda would let me show Russia to a championship and eventually consider breeding her. Not only did this result in a lifelong friendship with Theda, but Russia also evolved as the foundation bitch for what is often referred to as our "Russia" line after I got back a young Russia daughter we called Rita, aka Sandy Oak's Bit O'Russia. Meanwhile, I showed Russia to her conformation championship undefeated. Russia was also the first Chesapeake I showed to an AKC championship!! She was a beautiful well put together large sedge (red) bitch with an outstanding temperament. Russia went on to earn her CD and WD handled by Theda. She was also the half-sister to our own Ch. Sandy's Hi-Ho Shooting Star UD JH WDX.
Russia was bred 4 times producing beautiful puppies with exceptional field ability. A puppy from Russia's first litter was initially purchased by the late Mrs. Eloise Heller Cherry of BARONLAND KENNEL, and at the age of 10½ months, this pup, CH. MARY, MARY QUITE CONTRARY, attained her breed championship with Best-of-Breeds over males as well as a Specialty-Best-In-Match win. Mary eventually went to Whitewater Kennel in Canada to a breeder up there. Others of Russia's pups--some of whom are also titled--have been outstanding producers, or gun-dogs/family dogs with their owners referring other friends for subsequent litters and some of these dogs may still be found in other lines of Chesapeakes today.
In 1986, at the age of four I acquired a Russia daughter, SANDY OAK'S BIT O'RUSSIA ("Rita") sired by Ch. Tule Bob II WD. Although a show quality puppy, Rita was sold into a pet home where she was accidentally bred the first time at 10 months of age slowing her development so she always looked like a large puppy! Eventually, she was given away to a fellow who ended up with personal issues shortly after acquiring her, and that's how I happened to get her. I liked her so much, I cleared hips & eyes & kept her! Rita was a small, but very typey, balanced & sound sedge colored Chessie. Her greatest attribute was her exquisite rear end and gorgeous coat!! Because of her past, her training had been sadly neglected but she had the nicest attitude & desire to please at whatever one might ask her to do. A brief session of field training confirmed she was definitely not lacking in talent or desire to mark & retrieve birds...or misplaced possums! She was also very athletic with an uncanny ability to jump over 4 foot gates in one step and scale 6 foot fences to her freedom eventually resulting on a metal roof on her kennel run! Rita's breeding was excellent, stemming from the best of the old field trial & bench champions. Her father, Ch. Tule Bob II WD, was from Lyle Larson's kennel in Utah, having been brought out here by Eloise Cherry as an older, untrained dog & eventually sold to Alex Starr who continued his training & finished his championship at the 1983 ACC National Specialty.
Rita had six wonderful litters, but most of them have were sold as pets & gundogs. Her 1991 litter by CH. ERIEZ MARSH HAWK UDT WD was outstanding with 3 of the kids excelling in all areas of performance, especially Rusty, aka Am* & BIS/BBE Int. Ch.* Sandy Oak's Rainbow Rider UD JH NA NAJ WD CGC ROMQ, his brother, Ch. Sandy Oak's Marsh Ranger CD ("Corky"), & sister, Ch. Sandy Oak's Racing Reverly CDX JH OA NAJ WD ROMX. Rev earned her WD quite stylishly & championship handled by me a week later, a CD in 3 consecutive trials--being the third Champion/CD to finish for her litter--then earned her Junior Hunter the week after getting the 1st leg on her CDX with a 1st place & High Scoring Chessie. Rev is also the dam of numerous champions with multiple working titles in obedience, agility and in the field. Corky also earned his CD in 3 consecutive trials with scores all in the 190's, resulting in a JH & 3 champions from that litter in 1993, & 3 CD's, a CDX & a JH in 1994 & Rusty & Rev's ongoing titles & accomplishments over time. As a result of the champions from Rusty's litter, Rita qualified as a Top Producer for 1993. Rita's last two litters, by Ch. Eastern Waters Thunder Bay CD WD surpassed my wildest dreams for the classic puppies, starting with our own Ch. Sandy Oak From Russia W'Love WD CGC. "Reesie", as she is known, finished 4 matches with 3 Best of Breed/Puppy & a Group 1/Puppy & Group 2/Puppy. Her first AKC show resulted in Winners Bitch for 2 points over Open bitches, & 4 shows later, another WB for a 3 point major over Open bitches--both wins were from the Puppy 6-9 Class, then we stopped showing her to let her grow up. We brought her back out in 1995 for more points & a 5th place in the line-up from the Open Bitch class at the ACC National out of 20. The Coos Kennel Club show in Eugene (the weekend of the Supported Entry) resulted in a 5 point major for Reesie, & the following weekend handled by Sylvia Holderman of Meadowood Chesapeakes, she finished her championship with Best of Breed at the Sir Francis Drake Kennel Club show. Reesie also had looks, exquisite temperament, & talent but has since joined her other relatives at the Rainbow Bridge.
Rusty and Rev's offspring have continued the Russia line with many champions and working dogs through successive generations. Over the years, I have also bred offspring from my Star line back to the Meadowood dogs who go back to Rusty and have continued to produce outstanding dogs from these crosses. Rusty appears in all of the pedigrees of the present day Meadowood dogs as well, having come down from his "famous 5" litter out of Sylvia Holderman's lovely Ch. Willow of Meadowood CD. This litter produced multiple group winning BIS CH.* Meadowoods Close Encounter CDX JH WD ("Target"), Ch. Meadowoods Flyway Scout MH WDQ, Ch. Meadowoods Home of the Brave UD MH AX WDQ**, Ch. Meadowoods Zippy Delivery CDX OA NAJ CGC, and Ch. Meadowoods Wind Wing CDX NA (& 2 UD legs). It should also be noted that Target is the only AKC Best In Show Chesapeake with an AKC hunting title, and Brave was the first CH/UD/MH to finish an agility title and went on to third level AX (Agility Excellent) title. I'm not sure if they still hold these records today though. My Lacey goes back to Rev on her mother's side and to Rusty on her father's side.
Russia and her offspring have been a credit to our breed producing typey, sound, working Chesapeakes in the true manner as put forth by the breed and the breed standard of excellence and have been a credit to the wonderful Chesapeakes produced by Sandy Oak Kennel.