2013 in Review
2013 In Review
I know it's been awhile since I've updated this blog. I apologize. First of all, in order to write, I have to be inspired or nothing creative comes out of my brain. Secondly, I just don't ever seem to have the time, between working full-time at a job that has nothing to do with dogs, then coming home to my next full-time job with the dogs, and everything in life that seems to interrupt the pleasures in life that I would like to enjoy. On top of it all, the septic system, furnace, stove and dishwasher all went out this year and without any puppies on the horizon, it's difficult to replace them. Thank you to Matt and Shelley Lyttle, fellow Chesapeake lovers, who gave me a stove that we are working on getting installed, and hooked up to the gas line as my 40 year old now defunct stove was electric...and we will get it working! I have also become an expert at building fires in our wood stove so we haven't frozen to death yet

. A couple of months ago I picked up a nice toaster/convec oven at Costco and I actually baked a load of very tasty Toll House cookies in it this week for gifts. Now I need to do a load for us! Maybe even try one of the dog cookie recipes for the fur guys! And, I highly recommend Roto-Rooter who was a livesaver when the septic system failed the night before I was leaving for Jan's. They told me to go, they would take care of it, and they did!!! You guys are wonderful!
We've had a good year in spite of the log jams along the way. I get 3 weeks vacation every year and took two of them up at my cousin, Jan's So-What & Chesany Kennel Ranch in Idaho....one in May and one in September. Got in lots of field training with the dogs in and lots of r&r. And hit a blizzard in the Sierra's on the way home in September! Snow in September??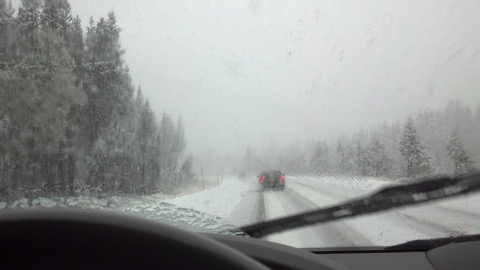 I also left Dedee up there in September to be bred to the very handsome Ben son, Jamie, i.e. Shaken-Not-Stirred, when she finally came in heat, which, happily is now & just got notified they got the first breeding as I was writing this blog

! Jan will be coming down next month for the Golden Gate shows and will bring Dedee home hopefully very pregnant. Thank you Jan for everything! You rock! I will post more in the "Breedings" tab for the Litter-hopeful once we know more.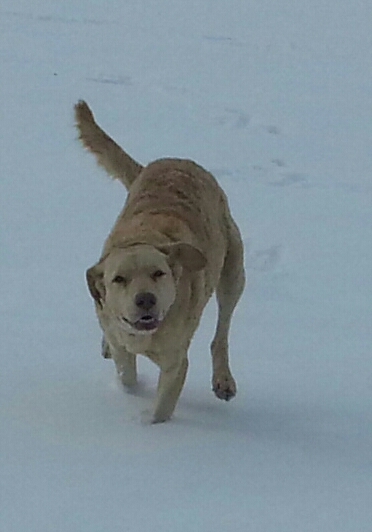 Robbie is growing up to be a very attractive boy! At 18 months of age, he stands about 25 inches and weighs about 85 pounds with very correct conformation and a wonderful temperament. Robbie has 7 points on his conformation championship including both majors, and he just earned his AKC Good Citizenship title (CGC). He even showed off some of his new found moxy last weekend when we were out walking and came under siege by two very ill-mannered dogs and an owner who just stood there doing nothing! We couldn't get past them on our way back home as the two dogs kept trying to attack us. Robbie didn't even try to go after them but he let them know under no uncertain terms that he was not going to let them hurt me. I finally slammed the closer dog in the face with the bag of Robbie's poop, it backed off, and we went on our way mad but unscathed!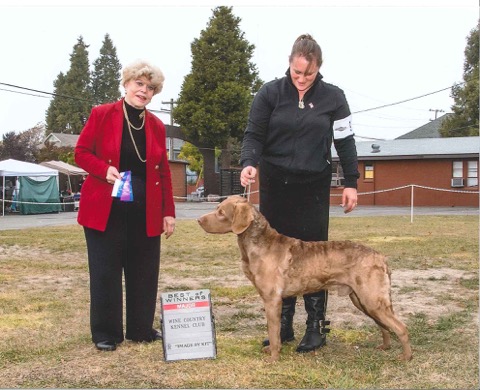 This June we got all of Molly's health certifications and pleasantly an Excellent rating was given for her hips. Meanwhile, Molly and I have been concentrating more on her obedience training this year and recently added an AKC Beginner Novice title (BN) to the letters after her name. As Molly is finally maturing, I may start showing her in conformation next year. But until I can find people to go out training with, sadly we've kind of hit the end of the line on our field work although I do take her out periodically to throw bumpers and birds which she quite happily works hard to retrieve.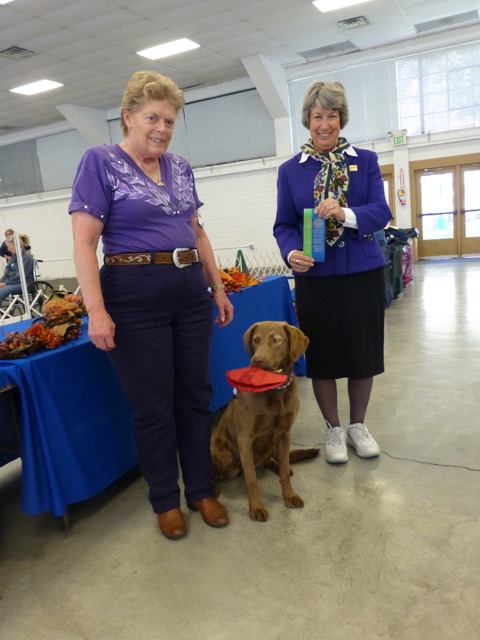 The American Chesapeake Club supported Golden Gate Kennel Club dog shows are coming up next month on January 25 & 26 at the Cow Palace in San Francisco. We have the biggest entry we've had in years with 37 Chesapeakes entered both days. My group will consist of my Robbie, Molly, & Dedee, Jan's Della (Dedee's daughter), Greg and Luann Nealon's handsome Henry, Michelle Mingus and her beautiful Tule, and Carol Knapp with her Ben and her AFC Dee. We are looking forward to it.
This coming year, I hope to finish Robbie's championship and get his OFA certifications. Perhaps breed Molly and continue with her training and titles. And hoping for a late February litter out of Dedee and Jaimie! Then get some new appliances

!

Sending good wishes for a prosperous and safe new year! And a huge thanks to Derrick Dodson for maintaining this site!

Kathy and the Sandy Oak gang