19/05/12 20:51
SPRING IS FINALLY SPRINGING HERE......
.....well sort of since it's raining again today as I write this but at least Northern California is finally getting caught up on the rain totals for the season, and so long as rains once or so a week, I don't have to start watering the yard! And in between it's warming up nicely!
Catching up from February...
on February 10th we had a lovely litter of 4 girls and 3 boys out of our Dedee, aka Chesany's SandyOak Dare to Dream, and Ben, aka Ch. Crackshot Ben There Done That***. Jan, my cousin and co-breeder took the pick bitch, a lovely little deadgrass girl now known as Della and who is to be registered as Chesany's SandyOak Special Delivery. All the pups have great temperament, are very birdy, and have been sold to great homes where some will eventually be hunted. Now thinking of the next breeding which will probably be Lacey again and more than likely to Ben again because that nick is producing some outstanding Chesapeakes.
We attended the Chief Solano Kennel Club shows last month, our first conformation shows since Golden Gate in February, with Lacey and Molly. Molly won her class both days, beautifully handled by co-breeder and professional handler, Catherine Collins, and on Sunday by Catherine's new assistant Robert who did an outstanding job with her. I showed Lacey and on Saturday she was Reserve Winners Bitch to Sylvia Holderman's lovely young bitch, Meadowoods Flight of the Phoenix, who is also a Jazz granddaughter. On Sunday, we traded placements and Lacey was Winner's Bitch with Phoenix going Reserve to her. A huge congratulations to Sylvia and David for Best of Breed both days with Phoenix's litter sister, Ch. Meadowoods Mountain Echo, a beautiful bitch and expertly presented by Sylvia's son, David! We will be attending the Coyote Hills Kennel Club shows again with Lacey and Molly on May 19 & 20, then the weekend shows at Woofstock on June 9 and 10, where we hope to see Laura's good looking young Darby show as well. Darby is a littermate to Molly and somewhat of a Henry look alike. I continue to try to do field work with Molly throwing the birds myself and working her in our one acre field. Molly is steady now, flies out, flies back and delivers to hand. So Annie, Molly, and I along with the last puppy from Dee's litter went to our first training day last weekend at Alex and Peter Starr's lovely Blackberry Springs on top of Mission Peak in Fremont. The puppy was sold and her new family picked her up from me there on their way back from a couple of days in San Francisco to home in Placerville. But we got to work the pup on both dead and live pigeons before she left.....another natural who also delivers back to hand! Couldn't have been more pleased with this pup. Molly and Annie did a great job with their marks.....you could see just how far I could throw for them by how far they ran out before they stopped to hunt, but as soon as each realized they had come up short, they continued to follow the line out until they found their birds. Alex was basically the grand marshall and judge for this event and happened to comment to me that she would love to see what I could do with Molly if I was retired, then later asked me if Molly was forced because of the way she comes in and delivers right to hand with so much enthusiasm. Here are a couple of photos that some one else took of Molly and me at the line: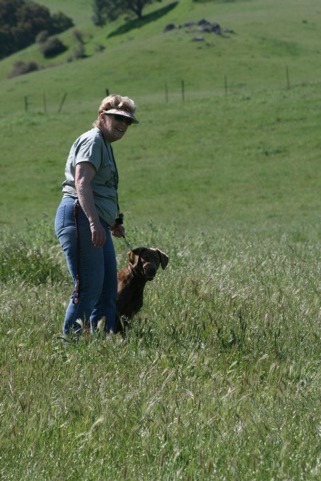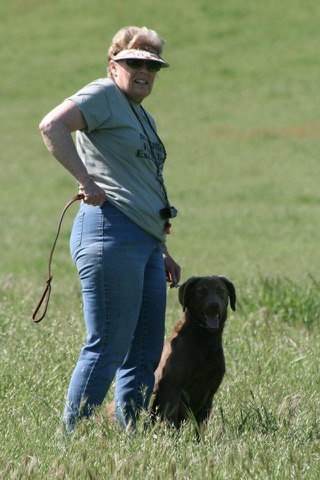 This was Molly's first time in the water too! She plunged right into the pond after the bumper then realized she was in something she'd never been in before and flew sidways out of the water to the bank! Thank you Dale Langhorne for putting on your waders and going into the pond with the bumpers to encourage her back into the water - she recovered quickly and brought the bumper back to me every time from then on. Annie also did great with her retrieves in the water. We finished a lovely day with a terrific pot luck dinner and outstanding company up at Alex & Peter's beautiful old house. We missed those of you who didn't attend. Maybe next year...... A huge thanks to Alex and Peter for hosting this event every year. And, now I really want to try to get both Molly and Annie out for more work so I can run them for their AKC Junior Hunter titles!

So as we head into summer, it looks like a good start to the year already. Stay in touch, keep those pups working and don't forget to send in their registration applications to AKC!! And please send keep sending me your photos for the website!!!

Kathy and the gang......