September 24, 2012
The Vincent Journal is now the Robbie Journal.
Vincent just didn't fit this wonderful pup that I've now had for a month and Robbie does!! Robbie is the whole package....I have high expectations for this little fellow that he will easily follow in his Grampa Rusty's paw prints!
I just spent the last week travelling with both Robbie and Mollie. We went up to my cousin, Jan Holshevnikoff's lovely ranch in New Plymouth, Idaho, and from there Jan with Della (from Dedee and Ben) and I with my two drove up to Cascade, Idaho where we spent 3 wonderful days at The American Chesapeake Club National Field Trial specialty. The entire trip covered over 1,600 miles!
Where do I start. The trip to Jan's was about 650 miles through some of the most barren Oregon High Desert you can imagine with miles and miles of country ravaged by a recent wild fire that Carol and I clocked through 30 miles of desolation on the way back! We arrived at Jan's about 7:30 on Sunday night. Monday morning Jan and I and the youngsters left for Cascade. The trip was beautiful as the road followed along the scenic Payette River which is actually also right down at the end of Jan's road! Jan said she knew a place where we could stop for lunch, and before I realized what was happening I was following Jan down a steep gravel "road" in my new low slung van to the rocky beach along the river. We made it and made it back up and it was worth it as we sat by the river eating our lunch, then took the pups out to the river to swim. It was a good thing I handed Robbie off to Jan on a flex lead or we might have been chasing the pup down the river. He went right in and started to swim! So I ran back and got the camera and his bumper to fetch and got some great pics. The water didn't phase him. Then we let Molly loose in the river with her Dokken duck. Jan got a great pic of her launching into the river, but all you can see was the splash she made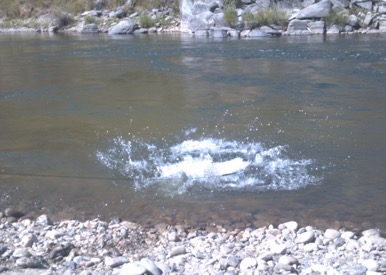 yes, there really is a dog in the middle of that splash!!

We then continued on up to Cascade which is a lovely Idaho mountain town at approximately 5,500 feet! The Birch Glen Lodge was the host hotel where most of us stayed. It was nothing fancy, but clean and a little rustic. Pups stayed in their crates in our vehicles as there just wasn't room for their crates in our room. We arrived mid afternoon and spent the time getting acquainted with new arrivals and re-acquainting old friendships. People from all over the United States were arriving with their rigs and Chesapeakes! Here is a link to the ACC website with all the events listed: http://amchessieclub.org/specialties2/FieldTrial12Idaho/schedule.htm

We had a great time! Jan had Della entered in the Junior Puppy Stake which ran on Tuesday afternoon. Prior to that we watched a lot of the open dogs run. The puppies did great and Jan and Della got a Reserve Judges Award of Merit. Pics to follow.....

On Wednesday Jan and I decided to go watch the Derby dogs run. I had really wanted to enter Molly in the Derby stake, but with no one to throw for us in training, I was not able to bring her level of training up to what was necessary to run Derby. But, the judges were great....they had to wait a long time for the last Derby entrant to show up to run the test, so they invited me to run Molly on the short bird of the Derby land double. And, Jane Pappler, the official photographer got these great pics of us.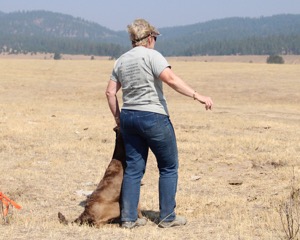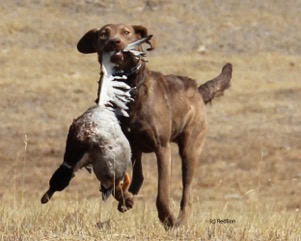 I also got Robbie out a lot to socialize and hang out. He was a huge hit with just about everyone and couldn't go anywhere without something in his mouth, so he mostly carried his little bumper around with him. Jane also got this pic of him: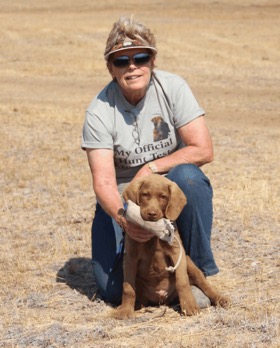 On Thursday, Jan and I decided to go sightseeing and head for home. We went up to Cascade Lake, but it was really too smokey from the fires burning north of us to take pics and all the signs asked people to keep their dogs off the beach. So after souvenir shopping, we headed back to Jan's via the road along the Payette River and did some sight seeing around Jan's place where I also took a lot of photos. Then Jan took me to a roping practice at one of the local horse ranches.

I drove up to Idaho alone with just my pups, but the plan was for Carol Knapp, Ben's mother, and Ben to drive back with me. Carol and Ben went back to Linda Harger's North Star Kennel in Boise after the trial, and Carol invited us to come over to train the dogs on Linda's grounds when we picked her up. So on Friday morning we set off to Boise with Robbie, Molly and Della and met up with Carol & Ben, and Dina and her lovely pup Music and went out to Linda's back 40 to work the dogs. Mine have the least field experience, but did well. We ran some land marks with ducks left over from the trial and stretched both Molly and Robbie out a bit. Then ran Della and Music who've had more training. Then we all did some marks on the water. Once Robbie figured out what we wanted, he went right into the water to retrieve his duck....ducks that were almost as big as he was. Then we all loaded up and headed back to Jan's where Carol and I spent the afternoon repacking the car to make room for another person and a big Chessie in a full-sized crate! Jan also sold her dump truck that day so treated us to a great Mexican dinner at a nice restaurant in Ontario, Oregon! And we sat up and talked much later than we should have for needing to be up at the crack of dawn to head back to California. Thank you Jan, for everything....it was a wonderful trip, and thank you Carol for for your great company and drive sharing on the trip home! It sure made it seem shorter and definitely more pleasant!

On Saturday morning, Jan, who is also an EMT, headed out before us as her unit was on call at the site of a huge annual event in New Plymouth called "The Big Nasty". You can google it on the web if you don't already know what it is! And, Carol and I and the three dogs headed for home. Carol brought a book on tape for us to listen to during the 11 hour trip back, and it finished just as we pulled into her driveway. We stopped in Winnemucca for lunch, gas, and to air the dogs, and Molly sniffed out a cottontail bunny and sent it high-tailing out of the bushes. Fortunately I had Molly on her flex lead, so didn't lose her to the bunny and the wilds of Nevada!

I love the country in Idaho! Haven't been there before and will defintely be going back. The people are great and the drivers are too. Jan and I are talking about spending the week of Memorial Day next May together so we can visit and do some touring. And Jan is now really motivated to continue Della's training to go on for her Junior Hunter title and to run Derby at the ACC specialty next year on the east coast! Both dogs traveled beautifully and were a lot of fun to have along. And I nearly got run off the road by 4 very rude drivers within the last hour to home

)! You gotta hate the California drivers after a trip like this!!

So, we are back to the old grind, had a wonderful trip and I have lots of photos to post!!

I had entered Molly in Novice Rally obedience at 3 shows before I left, and as fate would have it, she came in heat 2 days before the first two shows and we had to scratch! So, I have now just entered her in 3 more shows coming up. Two weeks before Molly came in heat, we went through our paces for her Canine Good Citizen certificate and passed that with flying colors, so Molly does now have her first title!

And, I guess that's it for now!

Happy training and be safe!

Kathy and the Sandy Oak gang