2014 in review
03/02/15 19:24
And...another year...2014 in review
Where does the time go! It seems like I just finished my last blog, yet when I took a look just now, it was nearly a year ago!! How time flies! Now it's time to wish everyone a Happy New Year again and hope you all had a wonderful Christmas.
I will begin with the end of the year and Molly & Robbie's beautiful 11 puppies born November 25th...7 boys and 4 girls. I couldn't have asked for a better litter. This is a first for both Robbie and for Molly and they did themselves proud. Photos are up on the website now.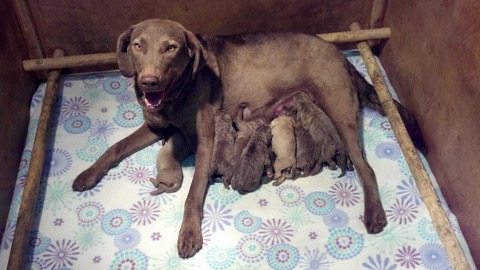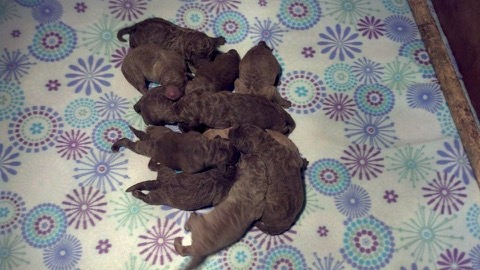 That said...this year started off with our annual American Chesapeake Club (ACC) supported Golden Gate Kennel Club show at the Cow Palace with Jan & Della, a very pregnant Dedee, LuAnn and Greg Nealon with Oh Henry!, myself with Robbie and Molly, and Michelle Mingus with Tule. We had a lot fun as usual! Robbie was Reserve Winner's Dog both days and drew quite a lot of positive comments when he carried the huge ball he won back up to the benching area from the ring on Sunday. Henry was select dog on Saturday for 5 more points towards his Grand Championship. Della with Jan was Reserve Winners Bitch on Saturday. And, it was great fun to show to Edith Hanson again on Saturday, then visit with her on Sunday at ringside! As always, we met with old friends and a good time was had by all.

With a lot of hard work and perseverance, in March I felt confident enough to enter Robbie in Novice Rally obedience at the County-Wide DTC same day back to back trials where he picked up two qualifying legs with a 98 and 3rd place in the morning trial and 2nd place and a 99 at the afternoon trial, then he almost undid all of the good work by attempting to grab all the toys that were being handed out to the winners! Hugs to Judge Pat Alvarez for being so patient with him! In April at the Chief Solano Show, Robbie barely made his 3rd and final Rally Novice leg after he tried to retrieve the cones on the serpentine, but squeaked by with a 74 point score and a new Rally Novice title. He also picked up another point in the conformation ring that day handled by Catherine. In May at Coyote Hills show on Sunday, Robbie went Winners Dog/Best of Winners/Best of Opposite for his 3rd major, a 4 pointer under Ms. Rita Bell again beautifully handled by Catherine. Then he picked up 2 more points at the Mensona shows in August handled by me. In between shows, in June, he went in for all of his health certifications and passed with flying colors becoming our 5th OFA Excellent rating in a row for sound hips! In September, Robbie was entered at the Sir Francis Drake shows and on Sunday, he finished his Championship with Winners Dog under Judge Richard Lopaschuk for his last point and a nice new conformation Championship title! This was such a nice way to end the show year.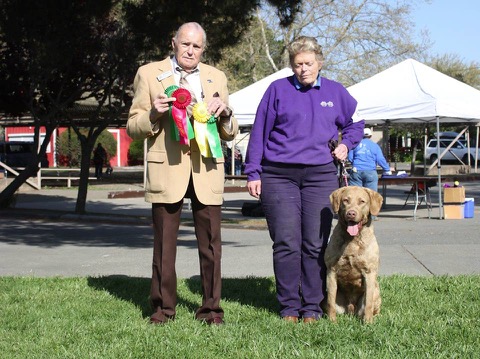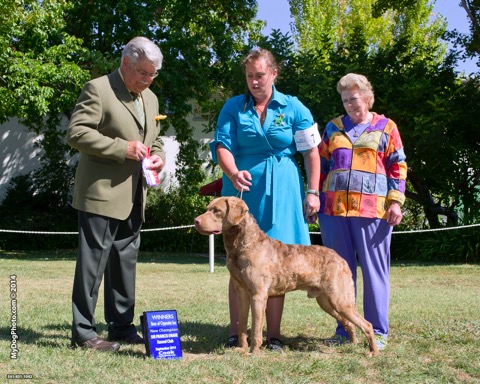 In February, Dedee, otherwise known as Chesany SandyOak Dare To Dream whelped a lovely litter of 5 pups sired by the outstanding recent new champion, Ch. Shaken-Not Stirred***, aka Jamie. All went to well known Chesapeake folks and have wonderful homes.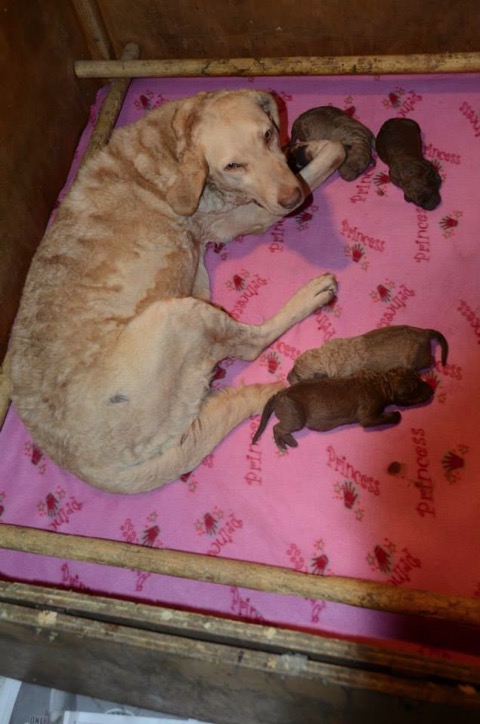 Meanwhile, Della, Dedee's daughter by Ben, went in for her health certifications, came back clear making our 4th OFA Excellent rating in a row!

In May we took some time off and Scottie, Dedee, Robbie, Molly, and the last Dedee pup, and I headed back up to Jan's wonderful SoWhat & Chesany Kennel Ranch in New Plymouth for some R&R and field training. As always had a wonderful time! And delivered the pup to his new home in Idaho.

Following my return home, I decided I really wanted to get another horse, so Jan and I started checking out the ads on Craig's list for the Boise area. It seemed like I'd never find what I was looking for until I happened on a listing for a gorgeous 2 year old registered Quarter Horse dark chestnut colored filly with white stockings that was advertised as already started and had a rider on her in the photo along with a pedigree to die for. Jan contacted the sellers, who it turned out she already knew, and set up an appointment to go look at her. Jan called me at work afterwards to let me know I had just bought a beautiful filly!! Her call name is Annie, and registered name is Nic n' Baily's Cream. And of course, if one has a horse, one has to complete the package with something to haul it in, so kept looking until we found a bright red stock trailer at an excellent price and a deal was struck for that! Meanwhile this filly has proven to be a wonderful purchase.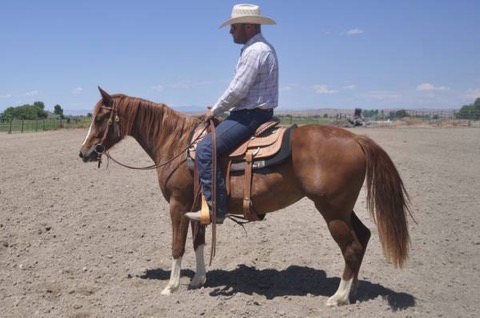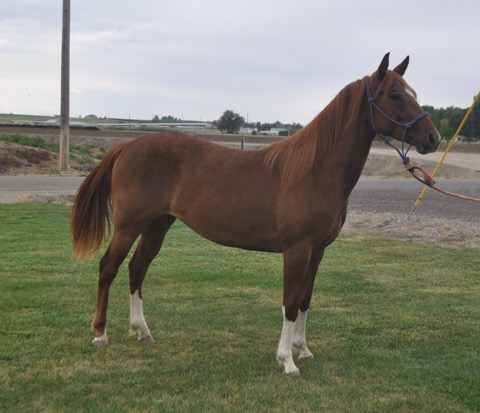 Jan Holshevnikoff has been working very hard in the field with Della, aka Chesany's SandyOak Special Delivery, and finished her Junior Hunter in September. At the Boise shows recently, this great team went on to earn Della's Canine Good Citizen (CGC) title in great style.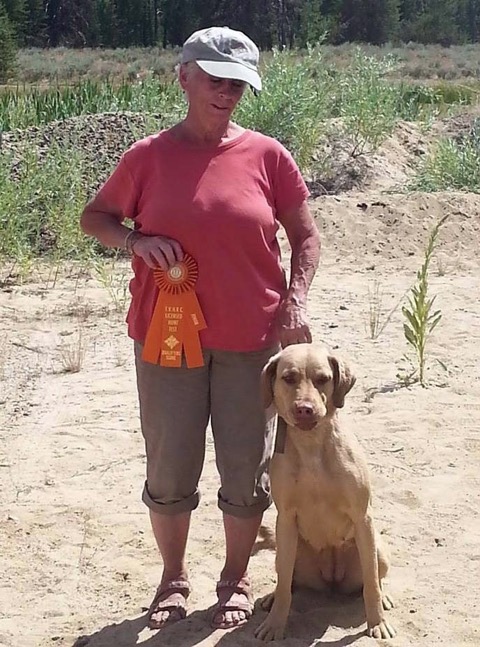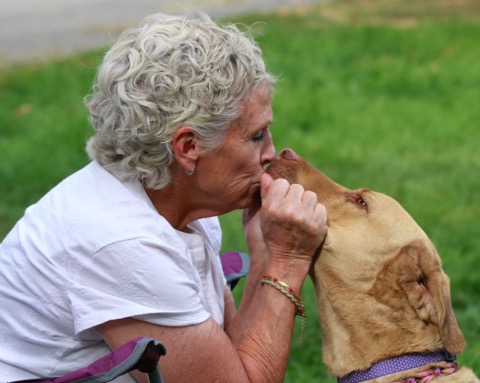 Excitement was filled with disappointment when in May Scottie was diagnosed with, and operated on, for a very aggressive hemangiosarcoma tumor on his spleen. We decided to do the surgery to remove the spleen and the tumor in hopes of buying some more time with Scottie as I was not ready to part with him just yet. Sadly he made it another 3 months before it was obvious the cancer was back and there was nothing else that could be removed. So Catherine and I held him as we sent him peacefully to the Rainbow Bridge. I still miss him....Scottie and I connected the moment we met but he also came to me with behavioral issues. That said I never had a problem with him after the first time he tried me! After all I have Chesapeakes!! For the last 3-4 years, Scottie has been with me nearly 24/7 as he came to work with me every day and was so much a part of my life. I've had dogs since I was a child but none caught me the way Scottie did. Scottie, my sweet prince you will be missed for a long time to come by all who knew you but especially by me! Thank you Florence Graham for trusting me with this wonderful boy!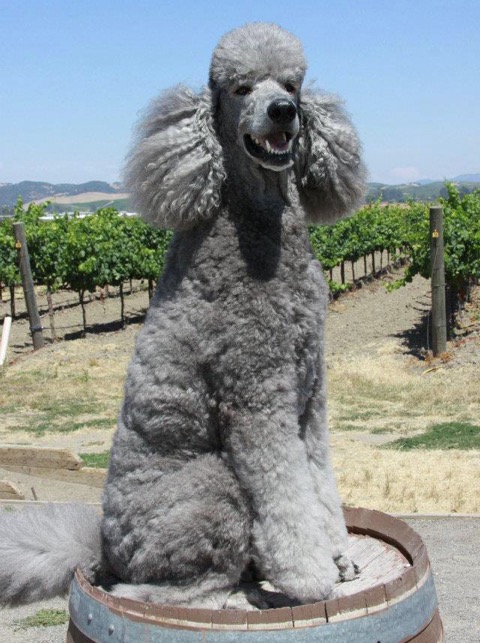 In September, we made our second trip this year back up to the SoWhat & Chesany Kennel Ranch in Idaho for a week and this time without Scottie! Halley got to come though along with Robbie, Molly and Dedee. History seemed to repeat itself on the trip up again when we drove into a pouring rainstorm complete with lightening just like this time last year as we came into Idaho. The storm had passed just as we arrived and Jan couldn't wait to introduce me to her newest acquisitions: 2 adorable black and white Llamas!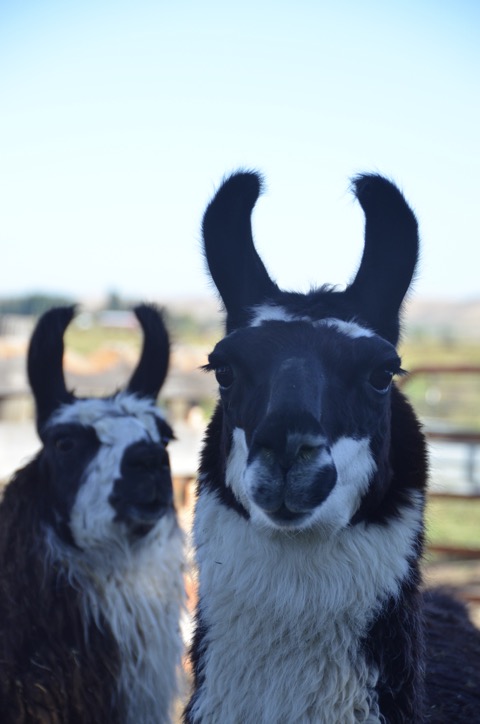 I was so looking forward to meeting my new horse, Annie, and finally riding her. Jan had sent me photos and videos but in person was much better. What a sweetheart! I rode 3 of the days I was up there and very much enjoyed her. Greg Bieker and Karen Cherry, owners of The Brim Collection of beautiful Quarter Horses [http://thebrimcollection.com/], are Annie's breeders and are terrific folks. Hardly had time to breath on this trip as lots to do. On Monday, we drove down to Filer [other side of the southern part of Idaho] to pick up the trailer we bought. On Tuesday, after riding Annie, we headed to Boise to do errands and made a stop off at Cabela's as I'd never been there. Naturally had to buy things....goodies for Marcie, new flip-flops for Jan and shirts for me. So here I am with my new horse and my sweatshirt from Cabela's. So far it hasn't been cold enough here to wear it. Wednesday...riding and errands, and Thursday morning, more riding.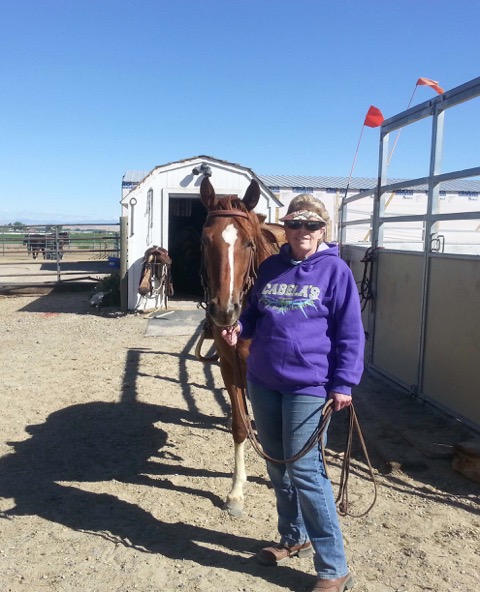 On Thursday we all headed up to Cascade to the field trial where Jan was running Della for the first time in the Qualifying on Friday. They did a good job but didn't finish, and I had to head back to Jan's so I could pack for the trip home. Jan has had a problem with one of the cows....a big orange one who gets into the barnyard by jumping the fence. So about 8 that night I found her out again and sent her back over the fence. About 10 I heard Nate's truck pull in and came out to see what was going on. "All the cows are out....coming over the fence in the driveway....looking to see the best way to put them back!" So, I went back to bed and a few minutes later heard the cattle drive coming into the barnyard where there was quite a commotion of bawling cows until they got them through the big gate that goes back into the pasture. Then lots of noise in the pasture as they fixed the fence. About 11:30 Susan arrived to make sure everything was secure and we stood and gabbed until I decided it was too cold to be standing out on the door stoop barefoot in my night shirt. Finally fell into bed and to sleep. Obviously was also not up at the break of dawn to start packing to leave, but made it out by 9 or so. Then stopped off at the ranch to say goodbye to Annie....until next year and on my way! I did not want to leave and so want to retire and get up there permanently, esp. now that I have a beautiful young horse and a trailer up there waiting for me, along with lots of good friends!

Shortly after our trip Molly came in heat and was successfully bred to Robbie – a first time for both of them – and Robbie's reward for finishing his championship

! Now, the rest is history with our 11 beautiful pups! Photos on the website!

In October I did something I've never done before. My friend [and webmaster] Derrick Dodson and his adorable daughter Kaylee, and their two Chesapeakes, Martha and Annie (both from me), met up with Robbie and me and we all drove to Marin for a walk across the Golden Gate bridge. Didn't find out until the following Monday that dogs are not allowed on the bridge, but got some great photos and had a terrific afternoon!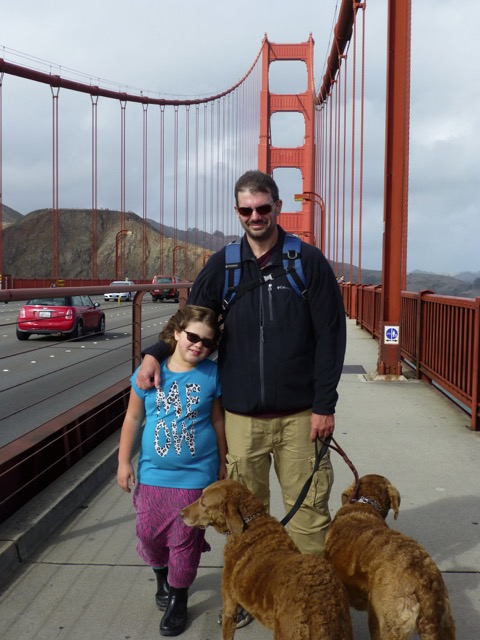 Sadly, just received the bad news, that Dave Miller, my ex-husband and long time friend, passed away on December 27th. It was not a surprise as he's had cancer for the last 18 months, but he will be missed by many. Rest in peace, Dave. I'm sure Sam & Sandy met you at the bridge.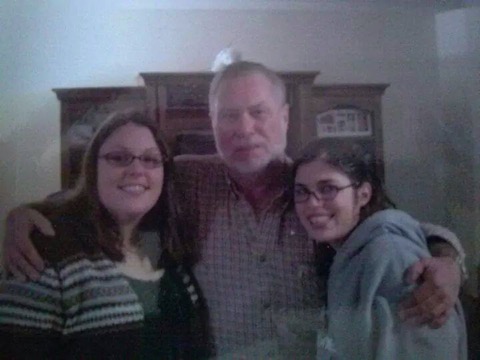 Wishing all of you the best for a safe New Year. See you in 2015 and don't forget the ACC supported Golden Gate Kennel Club benched show at the end of January at the Cow Palace in San Francisco!