What a Weekend at the Golden Gate Kennel Club Show
The ACC Supported Golden Gate Kennel Club shows
January 26 & 27th welcomed The American Chesapeake Club supported annual benched Golden Gate Kennel Club shows for us. My cousin Jan Holshevnikoff of Chesany Chesapeakes came down from Idaho with two of her Chesapeakes and stayed with us for a few days! And what a terrific time we had!!!
On Thursday, Jan met her half brother and sister-in-law for the first time and we all had a wonderful evening at my place getting acquainted, then Jeff and Lisa spent most of Saturday at the show with us. To quote my friend "What I really enjoyed was watching Jan getting to know her new brother and visa versa. They were both so thrilled it gave me a warm feeling just taking in their joy. Her brother and his wife are very nice people and I'm glad they found each other." Jan was adopted and only recently had her birth records unsealed so she could find her family!! This as been quite an exciting ride for both of us as I am Jan's 'adopted' cousin on my side of the family and Jan has kept me in the loop!! I actually met Jeff and Lisa in December at a local Christmas Fair and got to report back to Jan.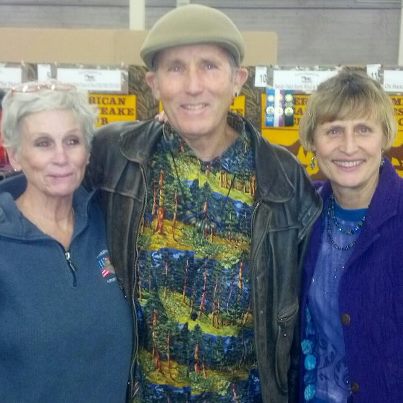 On Friday a few of us, including Jan and myself, went down to the Cow Palace to decorate the Chesapeake Benching area. When we finished, it looked great! We have a great decorating crew!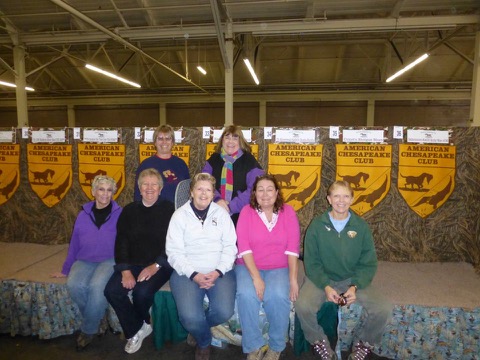 My puppy Robbie, aka Chesagrove Starry Knight At SandyOak, was entered, along with our Molly, aka Sandy Oak's Earth Wind & Fire, co-owned and co-bred with Catherine Collins; Molly's big brother, Henry, aka Ch. Sandy Oak's Oh Henry! owned by Greg & LuAnn Nealon; and the lovely Della, aka Chesany's SandyOak Special Delivery owned by cousin Jan and myself and out of our Dedee/Ben litter last year. Jan also had Dedee's littermate Marshall, aka Chesany's Field Marshall, entered. Here is a couple of photos of Robbie and Molly before and after I decided just to crate a somewhat overly enthusiastic Robbie!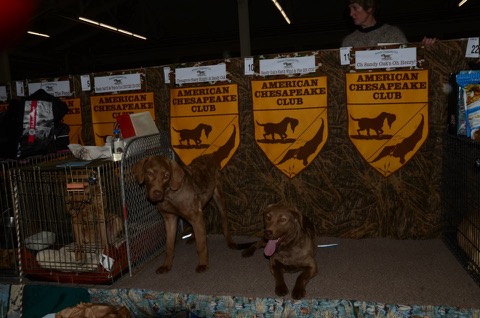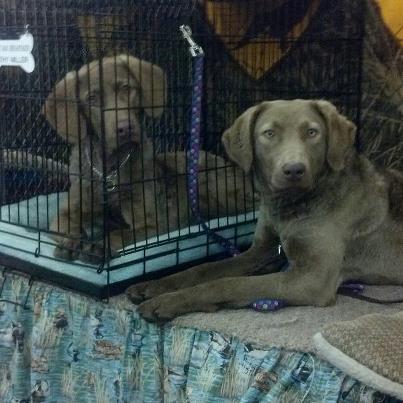 All 3 of our dogs were beautifully handled by Catherine Collins who is probably as close to a daughter as I will ever have!! Catherine did her usual spectacular job of presenting the dogs to the max! The weekend judging started out with a bang with Robbie winning his 6-9 puppy class. Della won her puppy 9-12 class handled by Jan. Catherine went in to the Bred-By-Exhibitor class and won it with Molly, but she sent me back in the ring for Winners Bitch and Molly decided on the last go-round it was play time....she ended up Reserve Winners Bitch! Then the breed champions went into the ring and Catherine and Henry came back out with their first Select Dog win and the first major on Henry's Grand Championship. Before the Best of Breed judging the steward asked us to stick around for the Best Bred-By judging to follow the Best of Breed judging. So back into the ring went Molly and Catherine against the male Bred-By Exhibitor class winner and they came out with a Best Bred By ribbon and a lovely trophy qualifying us for competition in Best Bred-By-Exhibitor Sporting Group to be held later that day!!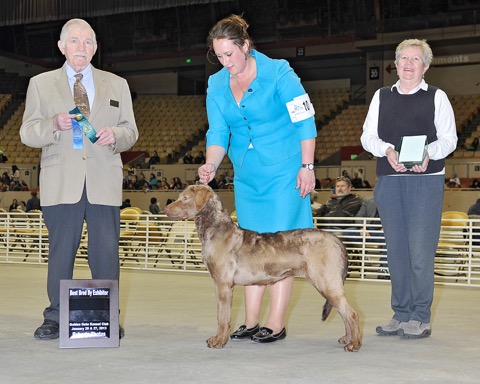 On Sunday, we started all over again. Robbie won his class again and Della won hers. Her uncle, Marshall, was 2nd in the Bred-By dogs and went Reserve Winners Dog handled by Jan. Molly was 2nd in Bred-By Bitch and went Reserve Winners Bitch. Then back into the Best of Breed ring with Henry and Catherine, and they came back out with Select dog again and the second major points towards Henry's Grand Championship. Robbie then got called back in to compete for Best Puppy and won it qualifying him for competition in the Best Puppy Sporting Group!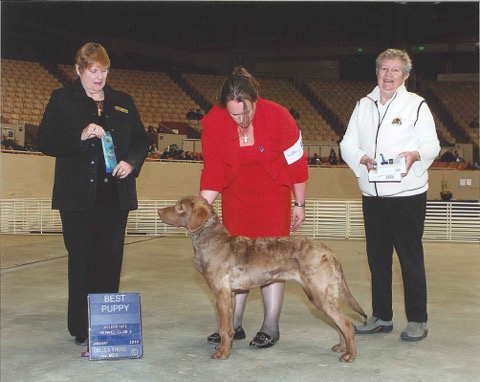 ]

As it worked out we didn't stay for the specialty Sporting groups either day as they were the last group of the day and it would have been way too late. I was disappointed that we couldn't stay, but I've had shingles for the last 2 ½ months; getting tired is stressful and causes a reaction that is not particularly welcomed! A friend of mine told me that she didn't get out until 7:30 p.m. on Saturday after the Bred-By Sporting group so it was probably a good call on my part. We came home with a ton of ribbons and trophies, so I'm happy

!

A lot of folks came through our benching area over the weekend! It was especially nice to see Mike and Shellee Martin who owned Robbie's grandmother and bred the litter that produced Robbie's dad, Raider, under their Gunrock kennel name. Two of my favorite clients from my real job – the one that pays the bills -- stopped by to say hello...I enjoyed visiting with them. On Sunday afternoon, ACC held it's annual raffle. The proceeds are used to help defray the cost of the beautiful trophies picked and assembled by Christie Gonzales this year along with cute little dog bone medalions engraved to indicate what the win was for and the date. Cheryl Macina collected an assortment of outstanding gift baskets for the raffle donated by many of the show vendors with supplemental donations from some of our exhibitors. Thank you Christie and Cheryl for all your hard work

!! And it was the first year I didn't win something in the raffle! Thank you Sylvia for sharing one of the baskets with me that you won...it was beautiful and great fun to open – the three matching ceramic picture frames match my new bed quilt and the wine looks very interesting! I also did some shopping but mostly just hung out in the benching area and enjoyed being with my dogs, the goings on around me, and the people!

The frosting on the cake to Henry's Select points, has to be from owner, Greg Nealon... he just sent me some great photos of Henry out duck hunting the week before Golden Gate. This dog has got it all!!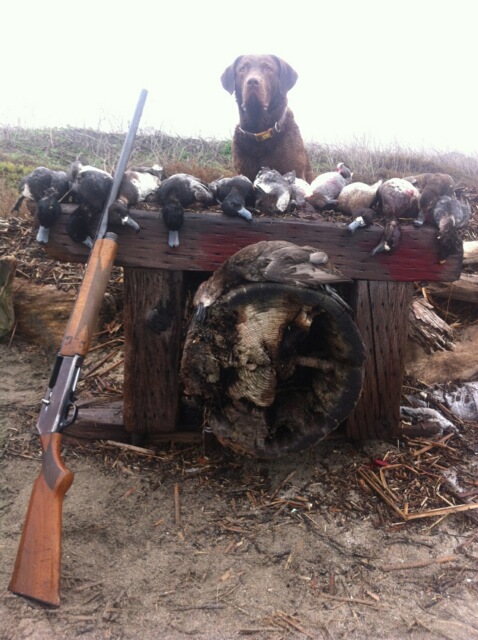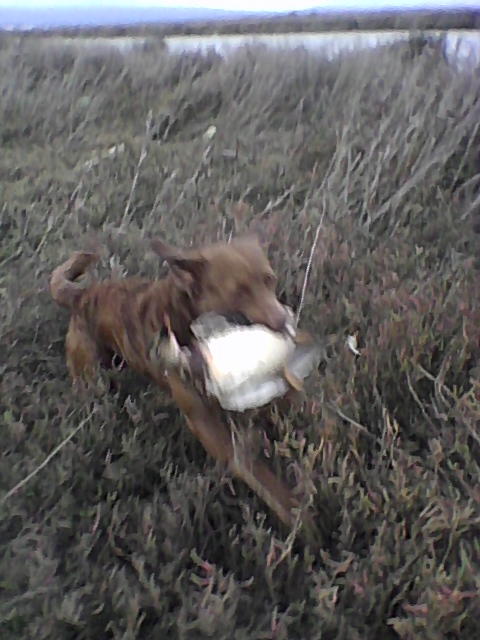 As for the upcoming days.....we are waiting for someone to come in heat so we can do a breeding! Robbie is growing like a weed....last weigh-in a couple of weeks ago he was up to 55 pounds! He is continuing to develop into a beautiful smart and talented young Chesapeake! And we are continuing our training in field work, obedience and conformation. The next shows I'm planning on will be for Molly to go with Catherine on the 4-day circuit in Vallejo at the end of March. Looking forward to Jan coming back down from Idaho for the Chief Solano shows in April, where we will probably show both Molly and Robbie, and I'm hoping to go back up to Idaho over Memorial Day week to spend some time with Jan just visiting and playing tourist.

I finally getting back to our group weekend walks again and I think all the Chesapeakes are enjoying it! I know I am. Also gave Robbie a new job to carry the newspaper up to the house from the tube at the street. He takes it quite seriously as you can see! We stopped briefly for some photos because many folks find it hard to believe I can walk 4-5 Chesapeakes at once. Pictured in front with the newspaper is Robbie, then Molly, and Dedee the deadgrass girl, and behind them all is Molly's mother Lacey!




That's all for now!! Please don't forget to send me pics of your young dogs so we can post them on the website!

02/15/2013